TO SEE THE INTERVIEW IN VIDEO FORM CLICK THE DESIRED PART BELOW.



This season and last season Notts have conceded late goals. I bet it is really frustrating for you as a Manager, isn't it?


Yeah it is, we set off quite well at the beginning of the season. We kept a few clean sheets as you know against Barnsley and against Stockport and places like that. And then all of a sudden we conceded a few. But these last few weeks we have tightened up a little bit. We've done alright like at Chesterfield and we did alright defensively for a spell against Northampton. So hopefully we can keep it a little bit tighter straight through the team.


As a Manager, if players aren't turning out good performances and appear they aren't trying. How do you motivate them?
Well I don't like that when you say 'appear they aren't trying'. All players try. I mean it's like you, you try your best at your job, even though sometimes it looks as though you're not and it's very difficult. But as I said earlier on I could've done with a bigger squad because there's not a lot of pressure on the players to do it.
But you motivate the best you can and that means getting the best out of them.
But like I said when you've got a small there's no pressure on them. I think the only thing that motivates us is getting results. We need to get a few more results. I mean you can come in on a Monday morning and the place is buzzing when you've won on the Saturday, then when you've lost on the Saturday and you come in everyone is walking about with there head down which I don't like. I don't want to see them laughing and everything like that if they've lost though. But I want it to be a decent happy place to work. When they work you have to work 100%, Train 100% and play 100% and I think that is the way it has got to be.


Why does Darren Caskey often refuse to applaud the fans at the end of the game.? This leads to fan resentment, which may account for the disgraceful booing that heralded his arrival on the pitch on Tuesday night against Swindon.
Well I don't know about that, I don't hear all these things. I don't need to comment on that. All I know is that Darren Caskey is a professional footballer and he gets on with his game when ever he can. He has bad games like everyone else, but I've never noticed why he doesn't applaud or anything, some players are different then others it is just one of them things.
Booing individual players happens, it happens. There's no two ways about that, that does happen in our game. Certain sections of every crowd in the Country always have a player when it isn't going right they'll have a go at. But they just have to get on and make it turn around and make sure they (the fans) are cheering all the time.


Which areas of the team do you consider most urgently need strengthening once the financial
constraints allow?


We'd just like to cover all positions, which we haven't got just now. We just have to carry on with what we've got and keep going.


Some fans are suggesting that the team isn't putting in 100% in most games. Would you agree with this?
No, not really. I don't agree because I think they have. Like I said earlier on, when things are not going right it looks as though they're not putting it in. I mean if you go back to the Huddersfield match and listen to my comments after that – that's what I've said then. We've got to be committed and we weren't committed in that game. But sometimes you work harder when you're losing games. But we put that right and we had a bit of a dig at them then and we put it right, we went on to win against Northampton and they went and got a draw against Chesterfield with ten men in the last twenty-five minutes. So the commitment was all there then.


Would you have still have come to Notts if you had known in advance how long the financial situation would tie your hands. ?


Well I think it's a well-known fact in the club, that when I came here there was going to be funds made available for me and it never turned out. It's just gone on and on and on and it has gone on along time. You just get a bit cheesed off with it. But when you're in the club you just get on with your job as professional as you can. I've been in the game for forty odd years and it is getting harder now. You just have to get on with it and get the best out of what we've got and hopefully it'll turn around quicker rather than later.


Have you ever felt at times like giving up and walking away from Meadow Lane?
I never walk away from anything. Any problems or whatever I never walk away. You just have to dig in and I'm probably more determined than ever to get success out of what we've got. If we do anything this year with the players that are in the club then we'll do very, very well. If we have players like Baraclough and players like that are fit and we have our strongest team, then we will give anybody a game.


Are you bitter at the empty promises made to you on your arrival at the club?
No, not really.


You've been at Meadow Lane for almost 10 months, in that time what have been your highest and lowest moments?
I think the highest point is when we secured our Division two status at the end of last season – we got sixteen thousand in here. The lowest point is probably about six weeks before that when everybody is saying, "we're going, we're going down." And we managed to turn it around. Not just me, the players, they were magnificent, the same bunch of players that are here now. And that's what we've got to do again.


Are you able to reassure fans that the club is making efforts to get our best young players signed up on long-term contracts, such as Fenton and Heffernan?

Well they're on contracts now. It doesn't matter because I can't extend anybody's contracts just now because we're in administration, so that is as far as it goes.


With the upcoming suspensions and current injury list, have you considered giving first team debuts to any of our bright young teenagers from the youth team / reserves? Which is your preferred option...giving a debut to a 17-yr-old in his usual position, or using a more experienced player out of position?
Well it all depends on how you look at the team and what you want to strengthen really. I mean I've always given kids a chance. And if they're good enough then they'll go in, but if I don't think they are good in enough they wont go in and I'll juggle about with the team a little bit, and give a game to the experienced players.


Does it frustrate you that Notts never seem to play for the full ninety minutes?
I don't think any club in the Football league or the premier league or whatever play for the ninety minutes non-stop, someone is going to have a bad time. So, that doesn't frustrate me at all really. Sometimes you try and get more out of them, but you can't play for ninety.. You're always going to have a bad spell for fifteen or twenty minutes, where you have got to dig in and defend.


Have there been any bids for players that you could tell us about?
Well if I had, I wouldn't tell you and there have been no bids in at all really, so as I say we just have to get on with the player's we've got.


How do you feel about the financial situation at the club at the moment?
What financial situation? Have we got a financial situation? I don't think we've have any problems do we? No, it's a big thing to have at the club isn't it? There is no money available and that's as far as it goes, we just have to get on with it.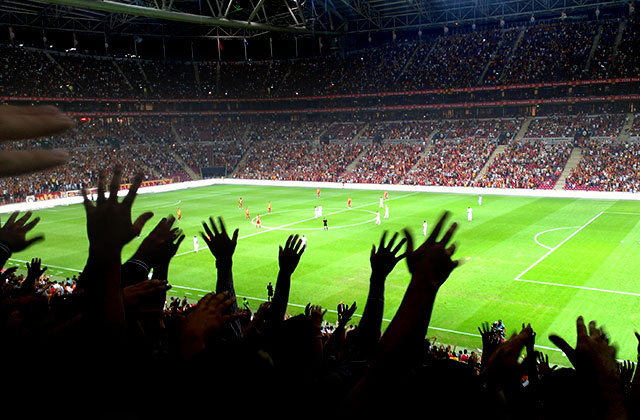 Deraden with former Executive deputy Chairman Peter Storrie

Are you still being promised money for new players once the club is out of administration?
Nobody has spoken about anything like that.


Realistically, until you are able to sign anyone, what is the best position we can expect to finish this season?
Well you're not asking me anything new there Mark. At the beginning of the season I said if we finish in the top half of the table with what we've got, then I'd be more than happy with that. And if we can be in the top ten by February or somewhere around about March and we can add people to the squad. Then I can't see any reason, if we are out of Administration, why we can't go for the play offs.


And finally Billy...Do you have a message for the fans?
Well the fans have been brilliant. They have always been good people ever since I've been here. They have been absolutely magnificent, even when we've been behind. Apart from what they saw at Huddersfield, which I'd like to think was a one off. I'll just say to them "Stick with us' and hopefully we'll turn I round. But I wont turn it around on my own. I'll turn it around with the help of the fans and the staff and everybody involved with Notts County Football club.


Mark Stevenson, the Editor with manager Bill Dearden