Away fans were situated here
This was my 3
rd
trip to Saltergate, and I was hoping that it wouldn't be a repeat of the last 2 times I was there.
On both previous occasions it was a freezing cold day. Notts lost 3-0 in the 98-99 season then last year we were beaten 2-1 and Stuart Garden was sent off for handling outside his box.
This time was very different thought, we didn't lose and it wasn't too cold – in fact it was quite warm when the sun was out!
Notts came to Chesterfield on the back of their first home win of the season, which I was hoping would act as the inspiration for another 3 points this afternoon. Unfortunately we only travelled back down the M1 with 1 point, but considering the circumstances we were under in the second half we did well. More about that in a minute.
Nicholson
The first half was very scrappy from both sides with both choosing to play the predictable 'long ball' most of the time rather than pass it. Notts didn't test keeper Muggleton really, with Notts only proper shot came near half time from Kevin Nicholson who's shot flew over, nowhere near the crossbar.
Notts' performance was all right during the first half but when they were attacking they could have been better, with the final ball being the problem for the majority of chances. Although, saying that, Chesterfield have one of the best home defences in the division, only letting 5 in, in 7 games before today.
Notts' defence, who aren't quite as good as Chesterfield's, were tested on a few occasions. Many by players just running at them and the Notts defenders just backed off.
Notts were applauded off at half time, and rightly so. They were much improved from the Huddersfield game 2 weeks ago (not like that would be hard). There were about 1,000 Magpie fans there – split between a standing area and seating area at Saltergate – some of which gave a brilliant rendition of 'Billy Dearden's Black 'n' White Army' which must of gone on for a good 5 minutes!
The second half was a lot more edge-of-seat stuff than the first. Notts had to clear 2 shots off the line in the initial 5 minutes; this was done by Simon Ramsden, who, in my opinion, had a very good game.
The little midfielder ran the show for Chesterfield
After that scare, Notts pushed the Spirites back into their own half for long periods of time.
Heffernan had a shot saved by the home keeper and then 5 minutes later Allsopp's chance flew wide of the post.
Then on 63 minutes the most controversial incident of the game occurred. Ian Richardson lost the ball and then in typical Richo fashion, he dived in to try and win it back. He was a bit late with the challenge, but certainly didn't deserve the straight red card he got.
Richardson dismissed from the action
In my opinion, Richo is Richo and will insist on diving in for needless challenges where they are not needed (this particular one was on the halfway line). It really annoys me when he does that, but I know he will do it because he always has done. Some people may say that he is very committed to the cause and wants to win all time. I don't disagree with that, I think that's true but sometimes he can be just a bit to over the top with challenges.
As for the straight red, I don't think it was. I've seen tackles worse than that where the player isn't even booked for it. The view that I saw it from – very low down behind the goal – may not have been the best angle to look at from though.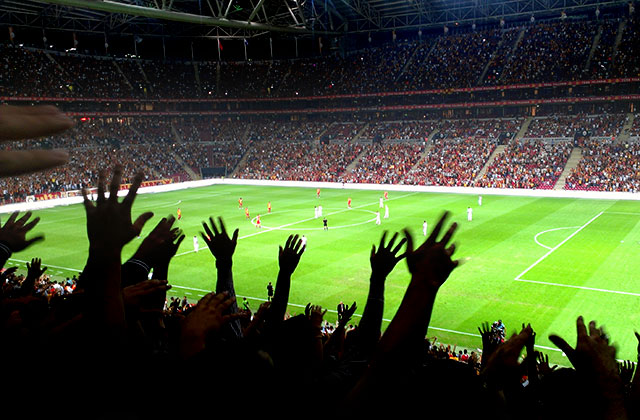 Good saves by Garden
Chesterfield then started to put 10 men Notts under pressure, with Garden needing to make 2 good saves to keep the score at 0-0.
In the last few minutes it was Notts on the attack again with Allsopp and Stallard having chances to get Notts the victory in the last minute, but it wasn't to be.
Tired in the last stages of the game
The sending off also means more trouble for Billy when we play Mansfield. Fenton AND Richardson will now be suspended for that tie which means that Ireland will probably play – but with who else? We don't have another recognised central defender in the squad. I'll leave you to ponder that one!