Nick with Kevin Nicholson

NAME:
Nick Clark
AGE:

38
WHICH STAND DO YOU USUALLY SIT IN ?
Family stand (with my two daughters)
WHERE ARE YOU FROM ?
Carlton, Nottingham
HOW LONG HAVE YOU BEEN A NOTTS FAN ?
Just over one year
WHY DID YOU START TO SUPPORT NOTTS, AND NOT THE SCUM OVER THE WATER ?
I was a Liverpool fan for thirty years and as such, I had to endure a lot
of stuff from F$£$% fans in the seventies.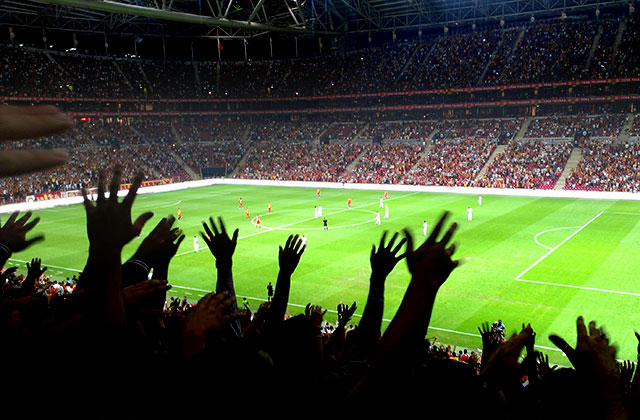 Best player in a Notts County shirt

WHO HAS BEEN THE BEST PLAYER YOU HAVE EVER SEEN IN A NOTTS SHIRT ?
Stall. OK so I've not seen too many but amongst the first games I went to was Pies V Peterborough where he scored in injury time with a quick turn and
shot. I was right behind the goal and never realised 3 points could be grabbed so suddenly. It was so late the fans had to sing the Wheelbarrow
Song on the way out.
WHAT WAS THE FIRST NOTTS GAME YOU EVER WENT TO ?
Pies V Sheffield Wednesday, 1974. It was a 3-3 draw. Scanlon hit a hat-trick after Wednesday had gone 1-0 up. I was in the old Iremonger road
end stand and it happened at the other end ! Oddly enough, I walked into the club shop the other day and there was the programme - one of only three or
four left for that season.
WHAT IS THE BEST NOTTS GAME YOU HAVE EVER BEEN TO ?
In my very limited experience it would be the last game of last season. I was sitting in Z Block and I thought I was at a cup final ! At 1-0 I could see Nicholson as he drew level with where I was sitting and as the defence opened up for him I just KNEW he was going to have a shot.
WHAT IS THE WORST NOTTS GAME YOU HAVE EVER BEEN TO ?.
Ironically I would say it was the game I first saw at Meadow Lane after an
absence of 27 years - Pies V Bournemouth at the end of the 2000-2001
season. Pies went down 2-0 and had their first attack in the 87th minute.
Nick Clark

WHO HAVE BEEN THE BEST OPPOSITION YOU HAVE EVER SEEN AT MEADOW LANE ?
I thought Man City on the Worthington Cup really stepped up a gear when they looked like going out to a late Stall goal.
WHO HAS BEEN THE BEST OPPOSITION PLAYER YOU HAVE EVER SEEN DOWN AT THE LANE?

It was a great thrill to see Kevin Keegan come as manager last year. As for the best player, well Neil Ruddock was certainly the most entertaining. His entire game consisted of waddling around in defence belly flopping the opposition until he was sent off. Then he stood in the tunnel whilst abuse
reigned down from all quarters.
Afterwards he came out of the players
entrance and happily chatted with fans of both sides and didn't seem bothered at all. That's the way to play footie I thought !
WHAT HAS BEEN THE BEST AWAY GROUND YOU HAVE EVER BEEN TO ?
I have to confess I haven't been away with the Pies yet. My first trip will
be to see Mansfield.
WHAT HAS BEEN THE WORST AWAY GROUND YOU HAVE EVER BEEN TO ?

As above
WHAT HAS BEEN YOUR FUNNIEST MOMENT DOWN AT NOTTS COUNTY ?
Probably against Peterborough this season when a player kicked the ball into
touch so Stall could get some treatment but it went so high it hit the
'Notts County' lettering on the gable and the fans underneath were showered
in lettering as five of them fell off.
BEST MOMENT AS A NOTTS FAN ?
After lining up on the touchline with a load of Z blockers singing 'We're running on the pitch and nobodies gonna stop us' my whole family invaded the hallowed Meadow Lane turf and stood there.My kids picked grass off their boots to keep as a omento, my wife stood there with a shopping bag and a man walked by with a cardboard wheelbarrow on his head - with the wheel
detatched. The team came out as if they'd won something and everyone went mad. Even then I realised a lot of fans around me hadn't seen anything like this before either.
WORST MOMENT AS A NOTTS FAN ?
Silence in the Port Vale game where a handfull of Vale fans sang 'Your
supposed to be at home' to fans and players that had long ago lost any
interest in the match.
WHICH PLAYER HAVE YOU BEEN MOST IMPRESSED WITH SO FAR THIS SEASON, IF ANY?
Hot prospect for the future
Paul Heffernan has looked a constant threat every time he comes on and everytime he runs at opponents it obviously frightens them to death and really lifts the crowd. Fenton has been solid in defence and it was great to see Richo come back after watching him play so well in the reserves.
WHICH PLAYER( S ) WOULD YOU LIKE TO SEE DEARDEN NOT PICKING ON A REGULAR BASIS ?
I really can't see the point in persisting with Caskey. I can't honestly say I've ever seen him have a good game. His name only ever comes up when he's talked his way into the refs notebook.How he can be an influence for good on
other players is beyond me.
WHO LOOKS THE MOST EXCITING PROSPECT AT THE LANE ?
Again Heff is a great little player. He's still not the finished article - he looks a bit lost on crosses when bigger defenders can push him about but
he finishes so well if he gets a touch. A text-book header against Lincoln
in the reserve game this season showed he only has to get a sight of the
ball to be lethal. I sometimes think he doesn't realise how fast he is and
pulls up a yard short when he could go on and win it or force an error out
of the keeper but full international status certainly beckons for the very
talented youngster.
WHAT HAS DISAPPOINTED YOU MOST SO FAR THIS SEASON ?
Failure to capitalise on the team spirit and success built up at the end of
last season.You can see half the team are there but they need to be 100%
sure of each other and play the full 90 minutes instead of giving away
senseless goals to teams that may only catch them on the break.
Dearden is 'ideal' says Nick

WHAT KIND OF PLAYERS DO YOU THINK NOTTS NEED IN ORDER TO GET OUT OF THIS DIVISION?
The back is alright. Garden is playing reasonably well and knows he will have to be on top of his game to stop Steve Mildenhall winning his place
back in the first team. The defence should be built around the ever reliable Fenton and the hard-tackling Richardson. Other players pick themselves
through their industry - Liburd,Bolland, Nicholson are always going to be on the team sheet and two from the three up front are on the team sheet.
Midfield generally though needs sorting out with some new blood coming in - Dearden is the ideal man for that and like the loathsome Alex Ferguson, he's
a man that doesn't always have to spend big to bring in a decent player who
will do the job.
AND FINALLY, WHERE DO YOU THINK NOTTS WILL END UP THIS SEASON?
It's another topsy-turvy season for Notts. When we're finally out of
administration, expect to give Mr Dearden a few months to get the players
and staff he needs to do the job and a further few months to make them gell.
I can't see us making up enough lost ground to finish anything higher than
top half but I would like to see the foundations laid for a team that, under
Billy, can challenge for a play-off or automatic promotion spot next season.
If you would like to answer some quick fire questions and be on "Meet The Fans" simply send a email requesting a Meet The Fans form to
loakesy@hotmail.com