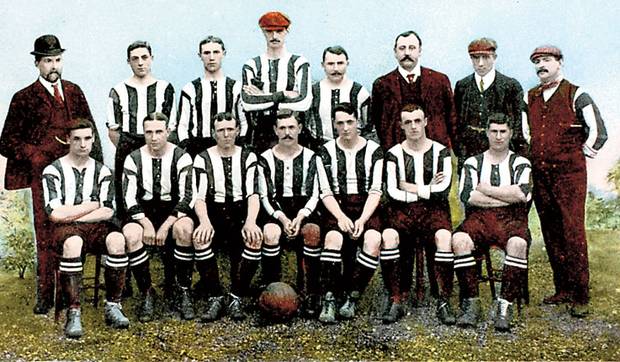 The Italian football club Juventus F.C. derived its famous black-and-white striped kits from Notts County.
Juventus have played in black and white striped shirts, with white shorts, sometimes black shorts since 1903. Originally, they played in pink shirts with a black tie, which only occurred due to the wrong shirts being sent to them, the father of one of the players made the earliest shirts, but continual washing faded the colour so much that in 1903 the club sought to replace them.
Juventus asked one of their team members, Englishman John Savage, if he had any contacts in England who could supply new shirts in a colour that would better withstand the elements. He had a friend who lived in Nottingham, who being a Notts County supporter, shipped out the black and white striped shirts to Turin.

On 8 September 2011 to mark the opening of the new Stadium in Turin, Juventus invited Notts County for an historic exhibition match. The game ended 1–1 with goals from Luca Toni and Lee Hughes coming in the second half.

(from Wikipedia)